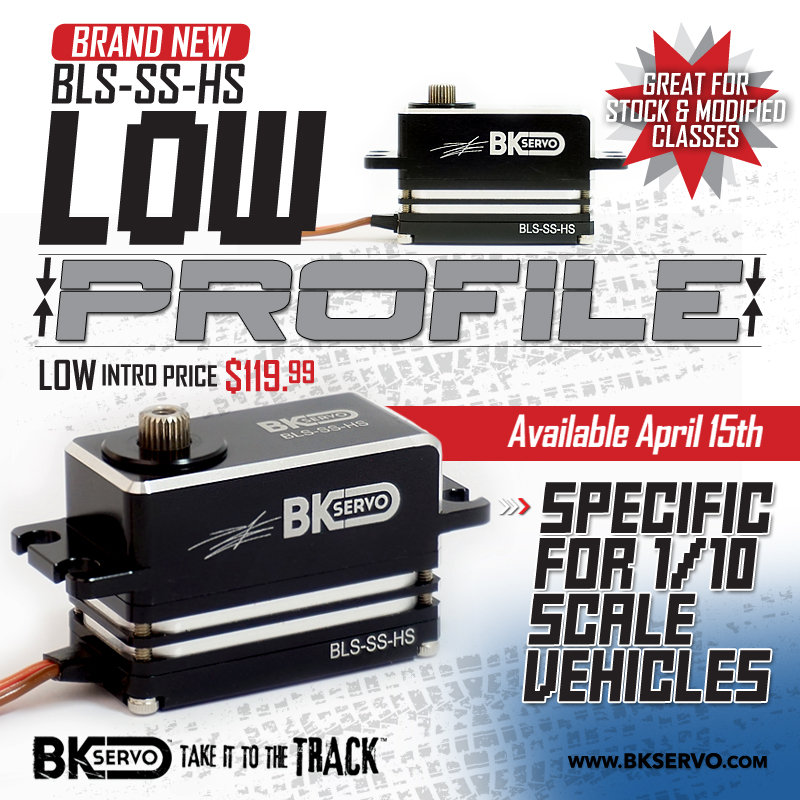 Introducing The NEW BK Servo BLS-SS-HS. Another great product Available April 15th.
For Immediate Release
New BK Servo Model BLS-SS-HS
Orlando, Florida (April 5, 2017) – BK Servo is pleased to announce a new servo made specifically for 1/10 scale surface applications. The new BLS-SS-HS model is a low profile, thermal efficient servo made specifically for 1/10 scale vehicles as well as aircraft requiring low profile servos due to mounting space constraints. This is an ultra high speed servo, faster than any other servo in its class, the high speed combined with plenty of torque and excellent centering allows the driver or pilot to feel more connected to the vehicle or aircraft. This servo will be released with an introductory price of $119.99 offering an incredible value for a servo of this kind.
"This is our very first low profile servo and yet another of many new high end servos to come in the future" said Bert Kammerer, co-owner and co-founder of BK Servo, subsidiary of BK Designs LLC, a Florida Limited Liability Company.
The New BLS-SS-HS will be available on April 15, 2017.
Product Specs
Operation Voltage: 5V – 8.4V
Weight: 59g (2.08 Oz)
Torque: 12 kg.cm (166.6 oz.in) @ 5V | 15 kg.cm (208.2 oz.in) @ 6V | 16.5 kg.cm (299 oz.in) @ 7.4V | 18.1 kg.cm (251 oz.in) @ 8.4V
Speed: 0.72 sec/60 @ 5V | 0.06sec/60 @ 6V | 0.05 sec/60 @ 7.4V | 0.045 sec/60 @ 8.4V
Dimensions: 20x40x29 mm
Frequency: 1500us/333 hz Gear
Gear Type: Steel
Motor Type: Brushless
Download Full Resolution Photos