For Immediate Release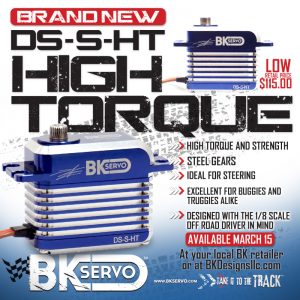 New BK Servo Model DS-S-HT
Orlando, Florida (March 1, 2017) – BK Servo, a leading manufacturer of high end servos for the remote control hobby industry is pleased to announce a new servo made specifically for surface applications, including 1/8 scale off road vehicles. The new DS-S-HT servo is capable of extremely high torque, which makes it an ideal candidate for 1/8 scale cars, such as truggies and buggies.
In addition to the ultra high torque, the servo also features steel gears, a thermal-effient CNC aluminum case and will be available for only $115.00, offering an incredible value for a servo of this kind.
"Our existing servo line has been doing very well in the RC surface segment over the last few months, but this will be the first of many new servos made specifically for this segment" said Bert Kammerer, co-owner and co-founder of BK Servo, subsidiary of BK Designs LLC, a Florida Limited Liability Company.
The New DS-S-HT will be available on March 15, 2017.